Serving Fresno, Clovis and Surrounding Areas
Dr. Jenny Tovar
Back to Fresno Information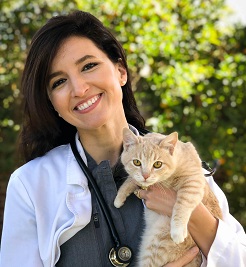 About Dr. Jenny Tovar
Dr. Jenny Tovar has been caring for animals as long as she can remember. Starting young with her family's many pets, and further with her involvement in 4-H through her teen years. In 2007 she graduated from UC Berkeley with a degree in Integrative Biology, and went on to receive her veterinary degree in 2013 from the University of Glasgow School of Veterinary Medicine. She has practiced in small animal clinical settings throughout California since 2013, and locally since moving to Fresno in 2018.
As a veterinarian Dr. Tovar is passionate about alleviating suffering, and believes that although saying goodbye to our furry companions is one of the hardest acts a pet parent goes through, it is also one of the greatest gifts we can give to our pets. During her first year out of vet school Dr. Tovar worked in a busy practice that awarded her the opportunity to provide in home hospice care and euthanasia. She found these house calls very rewarding, knowing that the animal had passed peacefully in the comfort of their home, surrounded by their loved ones.
Dr. Tovar lives in Fresno with her husband, dog, cat, and young son. She continues to work part-time at a local small animal hospital, and enjoys gardening, hiking, and time with her family on her days off.